The Brazilian coast between Rio de Janeiro and Santos (São Paulo) is one of the most interesting and beautiful regions in the world: many bays with wonderful beaches and islands, mountains with the Mata Atlântica (Atlantic Rain Forest), historic towns and indigenious villages, still not known to international tourism yet.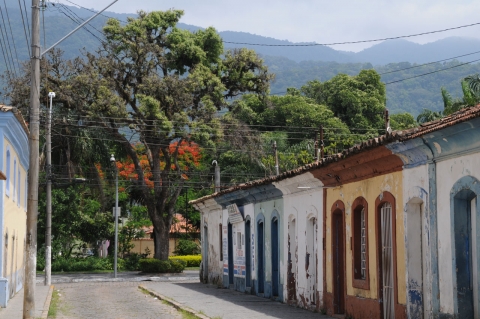 From the beaches you have a sight to the untouched jungle, the Mata Atlântica. The last intact coastal jungle with high mountains, water falls, rivers, beautiful beaches, many bays and islands, since 1992 UNESCO Biosphere reservate and since 1999 World Heritage. Originally the Mata Atlântica stretched up to the north of Brazil, now there is only 8% left. Half of the trees and many animals (about 80% of the primates) are endemic, which means, that they only can be seen here. The Mata Atlântica is one of the regions with the most species, so one of the 5 most important hotspots on earth. Beside monkeys, parrots, caimans, tiger cats you can meet jaguars and pumas, the largest cats in America. At the coast you often can observe tucuxi dolphines, the only species that lives in the ocean and in rivers. The climate is optimal for many orchids and bromeliads.
Take the tour on our site along this coast, from Guarujá going northeast along the northern coast of São Paulo and continuing along the Costa Verde, the southern coast of the state of Rio de Janeiro until Rio.
Something special:
If you have the time make a trip from São Paulo to Rio on the highland and return along the coast (Rio – Santos).
You will follow a long valley (Vale Paraíba) with high mountains also places to stop and make a visit as in Aparecida (with its famous cathedral), Campo do Jordão in the mountains (cold in winter) a nacional park and more. And finally, approaching Rio from the mountains is spectacular.
---